06/05/2020 by Sian Thomas 0 Comments
​What to Consider when Selling to Resellers
A mantra you will hear time and again in business is that without sales there is no business and that's so true. However it's understandable for business owners and entrepeneurs to get exacerbated by this stating if only it was that simple. Well, it's certainly not my purpose to over complicate matters and blindside professionals into working with me, that said it's not as straightforward as some suggest either as due consideration needs to be made to ensure your approach is fit for purpose.
Yes there are simple tools and techniques that can yield quick wins and inspire the salesperson into replicating them with the intent of repeating this success thus generating more sales, however to leave it there could quite easily lead you to a false dawn in the longer term as you may well not understand what you are getting right and why that is. Like many in business will agree, you learn more through making mistakes and "validated learning" rather than hitting the right mark in the first instance. Take this for example, ever tried a new sport or leisure activity to discover that you get a great result initially and then on further attempts your ability wanes and you struggle to understand what made you successful in the first place? That can pretty much apply to sales and indeed sales is about confidence but you must develop the right mindset to build that confidence, note that there are some great books out there which can delve deeper into this topic for you. I also want to add that during this blog I will be referencing some great sales resources which I will flag up to you to enable you to read further should you wish.

At this point I am going to make a confession, I've not always been the best sales person in my previous roles and unlike some of my sales peers in other published material I will declare that I have on occasion struggled in some sales environments. You know those ones you see parodied in the media, "hit those phones" "have you made your 100 dials for the day?" "smile while you dial." It's no wonder why many hard-selling companies have high staff churn and us sales professionals get a bad name.

Suffice to say, having been inspired by Frank Bettger's awesomely titled, "How I Raised Myself from Failure to Success in Selling" I wanted to share that it's really ok to admit that this might not be your strength - yet, but with the determination to succeed and a willingness to learn it may well become the greatest tool you possess in your entrepeneurial arsenal. Like those who do come to master their art, it takes discipline and commitment to get you there.
So let's cut to the chase, what I will outline going forward is how to get resellers on board. Addressing questions like, how can you get your product on the shelves of those companies supplying your market? What you need to consider and how do you get buy in from those who decide what they put in front of your target customer?

To answer those questions, I will share tips and insights gained from my career in sales going way back from when I was selling automotive lubricants (or engine oil in laymen terms) to automotive dealerships (the people servicing your cars) whilst at Shell UK to a more recent campaign of selling pollution masks into distributors from around the world.
For simplicity I am going to break this down into 3 main areas:
The Sales Plan: You need a strategy to get started if you really want to create a sustainable business development model. This is crucial no matter what size the company is or lifecycle stage they operate in.
The Sales Process you will adopt to deliver the sales plan you wish to follow.
The Sales Campaign and its execution. By giving careful consideration to steps 1 and 2 this is where the activity comes into play to achieve your revenue results and growth goals. Some authors will take it a step further by detailing how to engage with personality types according to various tools like DISC profiling, although worth consideration there are others better positioned to explain this then me.


The Sales Plan
So looking at the strategy part, we have all heard the saying, "Fail to prepare then prepare to fail." As true as this is, it is amazing to consider how many organisations do not do this.

Here is where you start creating your sales playbook. Yes, this is the bones of a document you will use as your bible for business growth. This business manual will be refined over time as you develop your processes, tools and templates for success and the way to do that is to get started.
Important components of a sales plan are:
Your Ideal Customer Profile. Take the time to develop your customer profiles, understand the people who will benefit most from your product or service. 
When selling to distributors and resellers there is an additional complexity involved. You have another layer to consider and that is not only the prospective end user of your product but also those in the buying team. This would require some research as to the composition of the roles involved in purchasing your classification of product and the challenges faced within those individual roles. To learn more about this I would recommend the following post: https://blog.hubspot.com/customers/ideal-customer-...
Your Offer in context of the customer profiles you have just identified.
Your Selected Sales Channels. This is where you decide whether to follow a direct or indirect sales channel. If you have opted for a distributor or reseller channel then you are following an indirect business development model and it is from here your process may vary which will influence…
Your Key Messages to the customer (both the indirect channel partner and their customers as identified in the profile analysis above)
Your Sales Team. Who will you assign to each channel? This can either be internal if you have the infrastructure to support it or external / outsourced, if not.
Your Sales Process. This covers the whole spectrum of the systems you select to enable your business development to take place to the tools and techniques required to guide your sales team to deliver it.
For further reading on the topic I recommend the chapter on Building Out Your Sales Capability in Automate & Grow by Michael Devellano.
The Sales Process
This is when you get into the nitty gritty and add further detail to the sales playbook. It's such a huge area that it has become a sales specialism in its own right. You may have heard about Sales Enablement but not truly understood what it meant or maybe recognise it under another name such as the newly in vogue portmanteau "Smarketing." Put simply, it is the infrastructure, tools and techniques used to generate Sales Revenue. That is the process of creating alignment between sales and marketing for the purpose of achieving your revenue aspirations with the goal of producing predictable and sustainable revenue being paramount.The sales process can vary in complexity depending on the requirements of your business with many starting out on spreadsheets. Although sufficient when starting out, please consider that there are some great software and CRM (customer relationship management) tools available that support a rudimentary sales process enabling you to scale as your proposition develops. Starting from free versions they at least can map out a basic process that monitors progress from generating leads and starting conversations to closing deals and retaining custom. Once in place you can begin refining and adding tools and materials to improve momentum and sales performance.
In addition to your process further consideration must be given to the sales team infrastructure, whether internal or external, basically those adopting these processes. The best visual reference comes in the form of Aaron Ross's infographic below articulated in his book, "Predictable Revenue: Turn Your Business Into a Sales Machine with the $100 Million Best Practices of Salesforce.com" whereby he is an advocate of splitting out sales functions into 4 core roles which is achievable no matter what size the business is.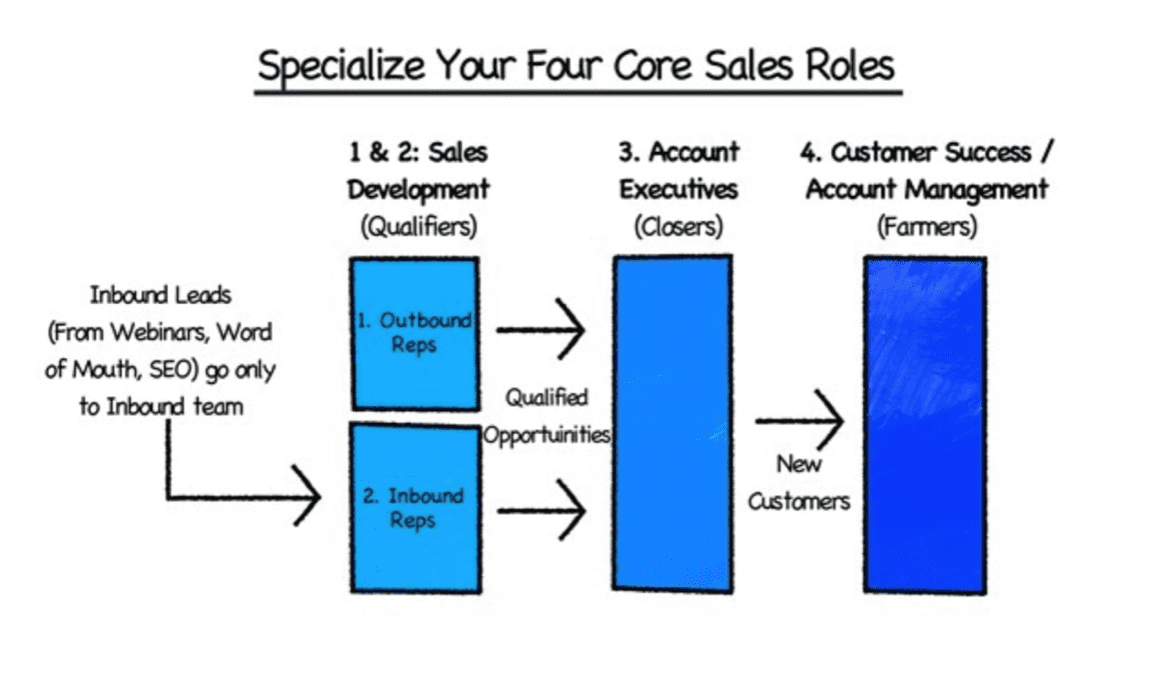 So having completed a lot of work to get this far, now for the fun part (depending on your point of view, of course).
Sales Implementation and Campaign Execution
Without taking time to go through the steps outlined above then the implementation and actual business development part becomes tricky. That said, this is a process in itself which will be refined, developed and improved the more iterations you undertake. The aim at this stage is not to make it perfect but rather have a framework that develops and scales along with your business.
Once you have organised your sales resource as per the previous sections you will find yourself in a good position to reach out to those qualified prospects you have identified as a good fit for your business. This structure can best be illustrated by referencing Hubspot's inbound methodology highlighted below:
Hubspot's Inbound Sales Methodology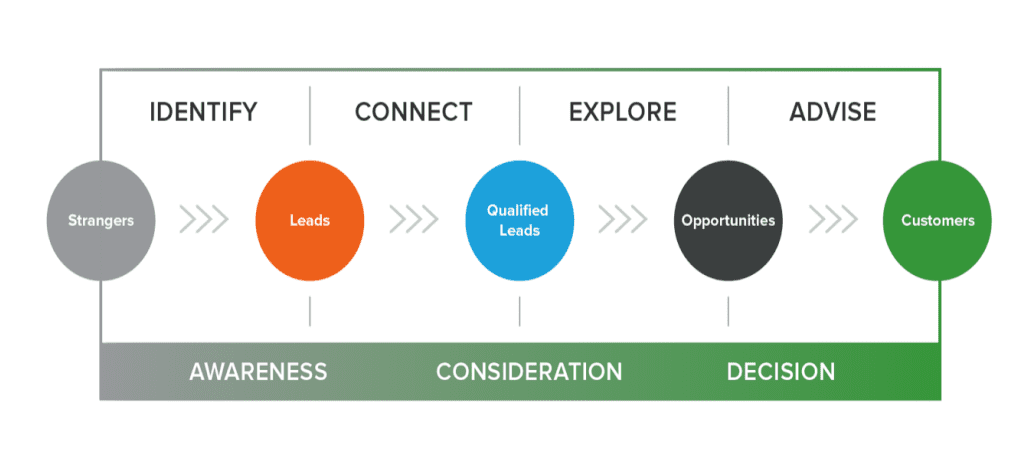 Once you have identified which prospects are a good fit for your offer and having then connected with them via your sales development team resulting in a meeting, you now have an opportunity to develop a relationship with them. You will be in a position to really get to know your prospects to further confirm if a good fit exists between your businesses.
To better position yourself as a credible supply partner it is always worth adopting a framework that enables the conversation to take place that adds value to the interaction going forward. The best example of this I have seen again borrows from Hubspot in the form of their CGP, TCI, BA exploratory call framework. Simply put it covers the following elements which is key to aligning your offer to your prospects buying situation.
C = The CHALLENGE your prospect is trying to overcome
G = The GOAL your prospect is trying to achieve
P = The prospect's PLAN for overcoming their challenge

T = The prospect's TIMELINE for achieving their goal
C = The negative CONSEQUENCE of failure
I = The positive IMPLICATIONS of success
B = The prospect's BUDGET
A = The AUTHORITY required to move forward with your solution
Taking time to go through this process better equips the sales person to advise on a solution (their solution) going forward. Whether that's via a demo or an on / offline presentation and it is here where sales people normally come unstuck. How else would you know if they are going to be a good customer if you don't take the time to learn more about them?
Furthermore, by taking the time to go through this step better equips the sales person to handle objections as they can reference their prospects previous comments and demonstrate alignment so therefore the value of their proposition which makes the process of closing far simpler.
You may think this is pretty generic stuff and what has it got to do with resellers specifically. The truth is resellers share the CGP, TCI, BA characteristics outlined above but the answers they provide may differ.
The main point of difference I can share in my experience of selling to resellers is in terms of how to retain them as customers. This is where it is worth assigning a customer success or "account manager" to champion them within your business. Providing them with the support required for them to succeed. That can be done by developing marketing collateral to share with their customers, providing them with staff training (on or offsite, maybe even via a webinar) or simply using crib sheets.
Put it this way by being strategic in your approach to this specific market and thinking through each individual step into delivering success for them is the best way to ensure a great commercial relationship that is sustainable going forward.
So to reiterate my earlier comments, as someone who cannot profess to being a naturally talented sales person who never really had "the gift of the gab" it was always my intention to develop a business development framework or approach to support me in becoming effective in sales which it has done. Moreover, it has supported my mission to enable others in similar positions to become successful in sales too. I hope this has provided some useful insights that can be applied to deliver success in sales for your venture going forward too!
So what do you think? Feel free to leave your comments below.
Feed